New Hyundai Price List 2022, Especially For You!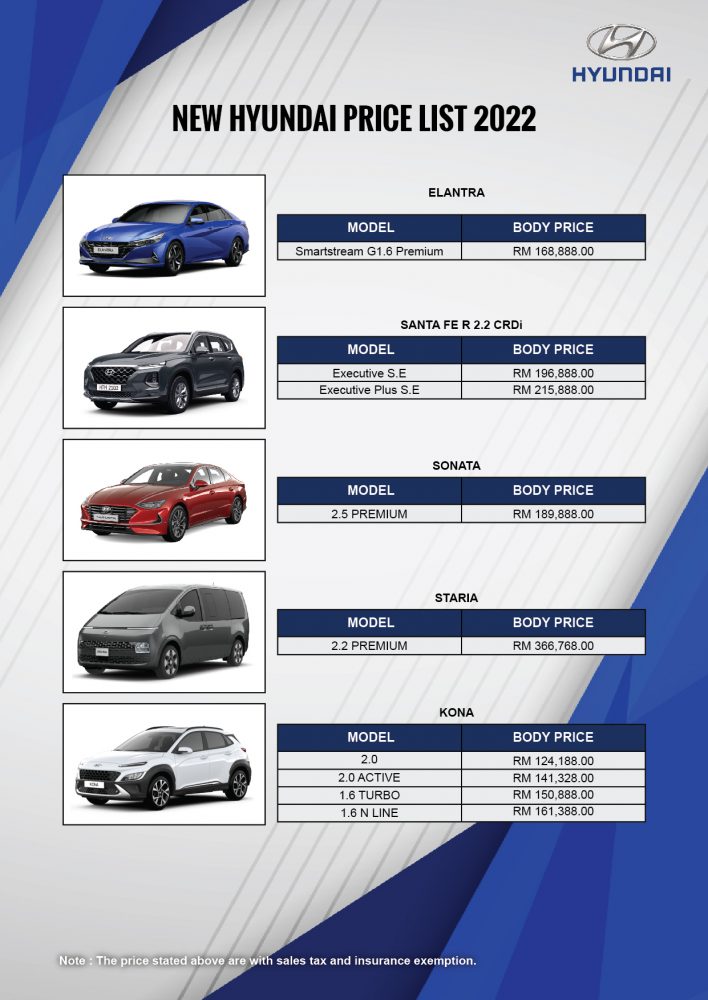 Elantra
A powerful, restless optimism, motivating the next generation of curious innovators to change the rules, change the game, change the world.
The body price of Smartstream G1.6 Premium starts from MYR 168,888.00.
Santa FE R 2.2 CRDi
Executive S.E.
Executive Plus S.E.
There is a different car for each kind of family. And all of them have one name: the All-New Santa Fe.
The body price of Executive S.E. is MYR 196,888.00, however Executive Plus S.E is available for MYR 215,888.00.
Sonata 
The all-new Sonata is winning hearts and minds with its advanced technologies that actually care for your well-being. Its advanced driver assistance technologies work invisibly behind the scenes to liberate you from the worries and stress of driving and make you a smarter, better and safer driver.
The Sonata 2.5 Premium costs MYR 189,888.
Staria 
Prepare to embark on a new journey into the revolutionary space of STARIA, where you will travel in maximum comfort, and spend life-enriching moments.
Staria 2.2 Premium costs MYR 366,768 in Malaysia.
Kona
One look and you can tell that the new Kona is slightly ahead of its time. Its design innovation done just right.
Kona 2.0 can be purchased for MYR 124,188.00, while Kona 2.0 Active is evaluated at MYR 141,328.00. On the other hand, the prices Kona 1.6 Turbo and Kona 1.6 N Line are starting from MYR 150,888.00 and MYR 161,388.00.
What's your view on New Hyundai Price List 2022? Sales Advisor Website has many more pleasant articles to read!