Your Proton X50 price, specs and reviews journey starts here. Once again, Malaysians were surprised by another new model Proton X50 in the Proton Automotive Arena after the launch of the Proton X70. The booking book was opened on Malaysia Day, 16th  September with a booking fee of only RM500.
Attractive design specifications and reasonable price make the latest model of Proton X50 segment B sports utility vehicle Proton X50 produced by Proton Holding Berhad as buyer's choice despite the relatively challenging market conditions due to the Covid-19 outbreak. It's clear that Proton X50 price, specs and reviews has been set to match customers' likes.
The Proton X50 model from Geely Binyue China is 'sister' to the Proton X70 model from Geely Boyue. What is for sure, this B-segment SUV model will compete with models such as Honda HRV, Toyota CHR, and Subaru XV.
In terms of appearance, there is not much difference between the Proton X50 and Proton X70. According to Proton, about 406 components have received new designs. And the most noticeable difference is on the infinite weave grille design which used black contrast with the arrow part in red.
VARIANTS AND COLORS
The Proton X50 has four types of variants, namely the 1.5T Standard, 1.5T Executive, 1.5T Premium, and 1.5 TGDI Flagship variants. If you buy the highest spec variant, surely you will expect the car of purchase to have everything it has to offer.
The National Automotive brand also lists six color options for this B-segment SUV, namely Snow White, Armor Silver, Jet Gray, Ocean Blue, Citric Orange, and Passion Red. However, not all of these colors are offered for all variants. For the Standard base variant, it only comes with three color options namely Snow White, Armor Silver, and Ocean Blue. For the one-step higher variant, the Executive will be added with Jet Gray and Citric Orange.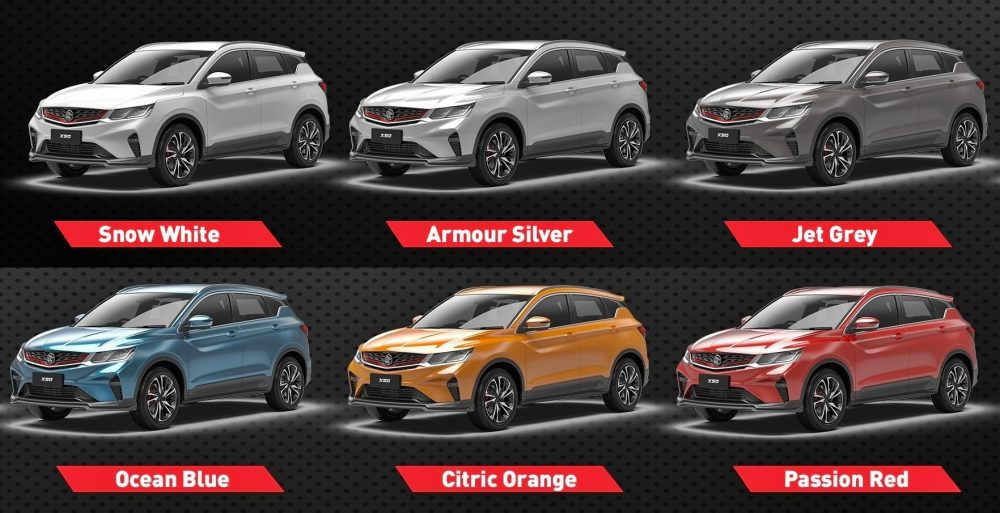 While for the highest variants of Premium and Flagship, these five colors can be selected with the addition of Passion Red. The notable difference for the Flagship variant is its appearance with two tones of black roof.
ENGINE
The 1.5L TGDi (1.5TD) three-cylinder engine and 7-speed transmission (7DCT) are the power sources of the SUV model. The engine was developed in a joint venture between Geely and Volvo at Volvo's Research and Development (R&D) Center in Gothenburg, Sweden, China Euro Vehicle Technology (CEVT) in Gothenburg, Sweden, and the Geely Automotive Research Institute in Hangzhou, China.
In addition, the 7DCT transmission has been developed by Geely according to Volvo standards, providing maximum efficiency of 97.2 percent and a gear change response time just 0.2 seconds. This in turn makes it the best combination for a 1.5TD engine.
For the Malaysian market, the 1.5TD+7DCT generator coupling is now applicable to the Proton X50 1.5 TGDi Flagship variant model, which promises great and responsive driving performance, coupled with proven fuel efficiency and reliability.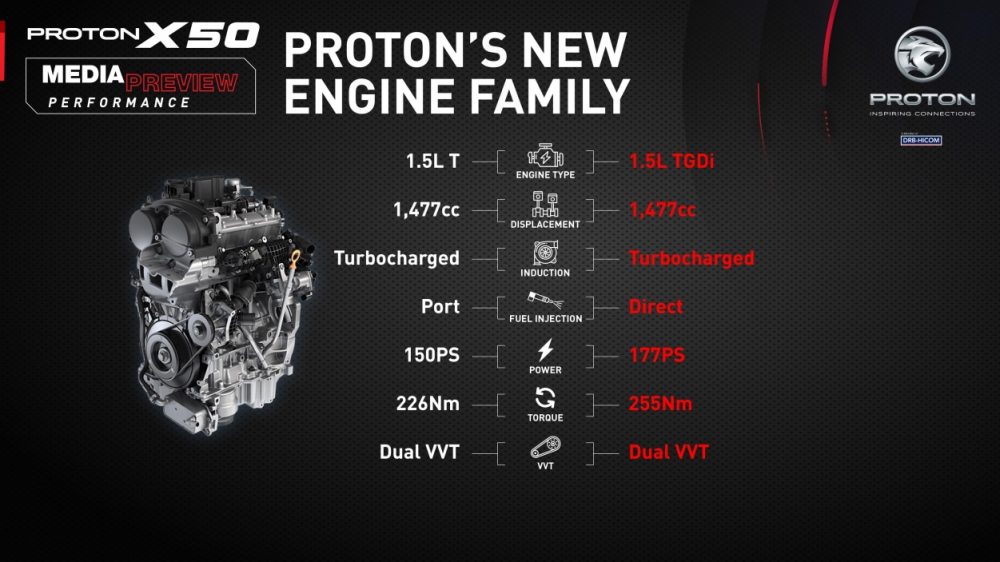 EXTERIOR
The exterior you can see based on the design of the Geely Binyue model, the front is very rugged with charming LED lights. The rear of this car also does not disappoint in terms of its design.
The Proton X50 comes with an infinite weave grille design with a red frame stripe and new Proton logo in the middle. It uses LED headlights with two DRL strips in it. All Proton X50 variants are supplied with LED headlights, while the Executive variant and above are given the function of automatic lighting as well as LED fog lights.
Proton X50 tire rims are 18 inches in size, this size tire is much cheaper to replace. It's good quality, cost-friendly and safer than the big ones. The Proton X50 also offers an accessory package that includes a rear door with a smart tag reader installed for RM3500.
From the sidewalls, you can see the indentations of the front bonnet cover connected to the side fenders and right to the door by creating a line that is enough to give a more elegant image. The rear side mirrors have the same bottom line as the Proton X70 and the D pillars are given a black finish to make the roof seem to float.
All variants receive a sporty-looking body kit with more aggressive-looking features such as front bumper with a larger grille, a more pronounced side skirt and a large rear bumper diffuser plus a carbon-fibre trim finish. Furthermore, the spoiler design provided has two slots. The TDGi emblem is given on the bottom of the Flagship model door only. For other models, no emblem is provided.
INTERIOR
As for the interior design, it is still the same as the Proton X70. It is designed with a brushed aluminium finish as well as an air-conditioning funnel that looks like the back of a jet engine along with storage space at the back of the center console similar to the design from Volvo.
Digital instrument panel display with seven-inch LCD screen. For the infotainment system, the Premium and Flagship models receive a screen resolution of 1920 × 720 with a size of 10.25-inches, while the lower variant is given a screen with a resolution of 1024 × 600 with a size of only 8-inches.
Both screens are powered by the same Geely Key User Interface (GKUI) 19 system as the Binyue Pro. Yet for 4G connectivity, the lower version features an eSIM card slot on the main player, while the higher version is given an eSIM located inside the telematic box.
It uses a quad-core processor and a special graphics unit (GPU) and comes with other functions as well. In addition, the proton X50 still maintains the same application appearance as Proton x70, namely the new AMAP online navigation and JOOX music streaming application.
Next, the Proton X50 has a GDlink mirroring function that allows smartphone applications such as IOS and android to be used on the Proton X50's infotainment screen. All variants have a "Hi Proton" voice command system. But for variants like Standard and Executive, this control system is limited to infotainment systems only. While for the Premium and Flagship variants, the controls used are other electronic systems such as air-conditioning systems, power windows and other systems similar to the Proton X70 system.
To differentiate each variant, the Standard receives fabric and display from a reversing camera on the infotainment screen. While the Executive version has a leather-wrapped steering wheel. Synthetic leather seats are also provided. Both of these variants are given a black finish of the interior decoration.
REVOLUTIONARY CONNECTIVITY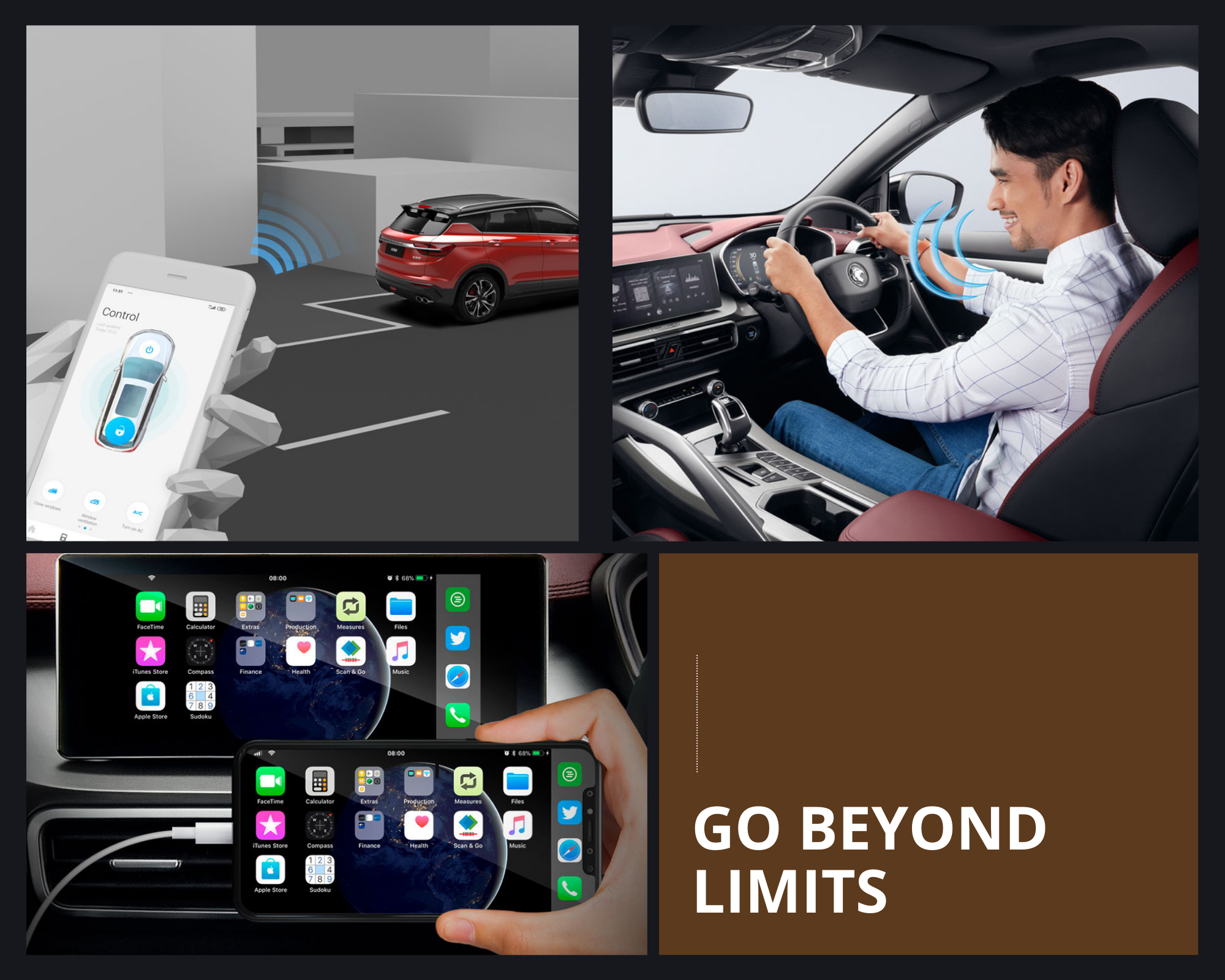 SAFETY FEATURES
Safety features are very important in automotive selection. It is better if the dream car you want has a strict safety function. For the base Proton X50 model, it is provided with four airbags, ABS Braking System, EBD with BA, Electronic Stability Control, Traction Control, Climb Start Assist, Downhill Control, Auto Break Hold as well as ISOFIX seat hooks for rear children. For Executive models and above, six airbags are given.
As for the Flagship model, it features a level 2 autonomous driving function which consists of Adaptive Cruise Control that is only available on this variant because other variants come with the Normal Cruise Control driving function only. Followed by the Stop and Go function, Middle Lane Permanent Assistance, Lane Permanent Assistance and Parking Assistance System that allows it to park itself in a parallel and correct position.
Proton offers two accessory packages for this X50 namely the Urban package and the Utility package, both of which offer electrically powered rear tailgate door functions that are not provided on all Proton X50 variants. For the Urban package worth RM3,500, it also comes with a built-in SmartTag device, a coil-type footpad, and even a magnetic sunscreen.
As for the Utility package which costs RM3,300, it consists of a PVC footpad, a tray for boot space and also a scuff plate finish on the door. This package is only offered to interested customers only.
PRICE
As you know before, the first B-segment SUV from Proton is offered in four different variants. The most basic Proton X50 Standard model is priced at RM79,200, followed by the Executive variant is priced at RM84,800, the Premium model is priced at RM93,200, while the highest version of the Proton X50 Flagship is priced at RM103,300. These prices are for peninsular Malaysia, while in Sabah and Sarawak all variants are tend to be vary. All of these stated prices are also on-road prices without insurance and SST exemptions until December 31, and they come with five -year warranty coverage with no mileage limit.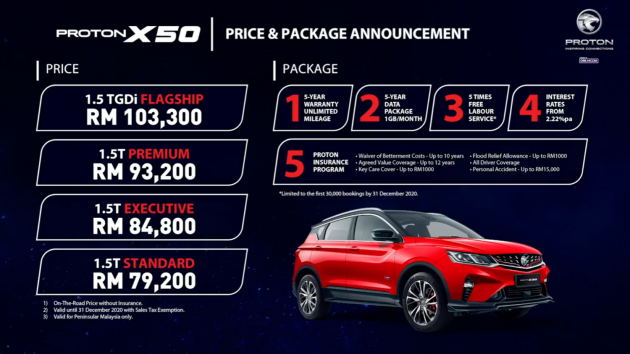 CLOSURE
I hope this article gives you a clear vision regarding Proton X50 price, specs and reviews. Cars are the sculptures of our everyday lives. Apparently, the features set available on this X50 are actually pretty good. It promotes comfortable driving style to be driven in cities and highways.
Wish to study more articles regarding Proton vehicles? If you're impressed with Proton X50 Price, Specs and Reviews article, why not go to Sales Advisor Website.