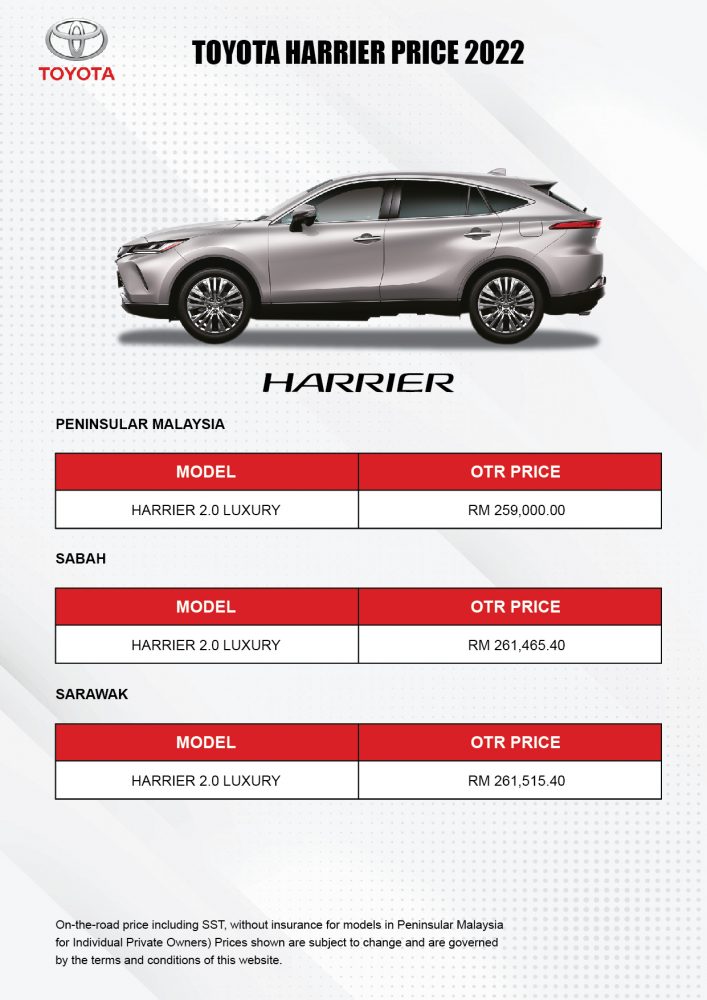 New Toyota Harrier Price 2022, Luxury D-Segment SUV! Toyota has launched fresh futuristic Harrier 2.0 Luxury. The Harrier gets many things right and ticks a lot of premium boxes in the process. The radical redesign creates a strong presence, as it looks unlike most cars on the road today. Immerse yourself in this exploration of Harriers' on the road prices in every region.
Peninsular Malaysia
Harrier 2.0 Luxury's body price begins from MYR 259,000.00.
Sabah
In Sabah, Harrier 2.0 Luxury is available for MYR 261,465.40.
Sarawak
Are you a Sarawakian? In Sarawak, you may own Harrier 2.0 Luxury for MYR 261,515.40.
CLOSURE
Luxurious, Powerful, Technologically Advanced! Toyota Harrier model offers 1 and only Harrier 2.0 Luxury at affordable cost. Contact nearest Toyota showroom and book your Harrier!
"Travel does what good novelists also do to the life of everyday, placing it like a picture in a frame or a gem in its setting, so that the intrinsic qualities are made more clear. Travel does with the very stuff that everyday life is made of, giving it sharp contour and meaning of art". – Freya Stark
What's your view on New Toyota Harrier Price 2022? There is always more to read on Sales Advisor Website.