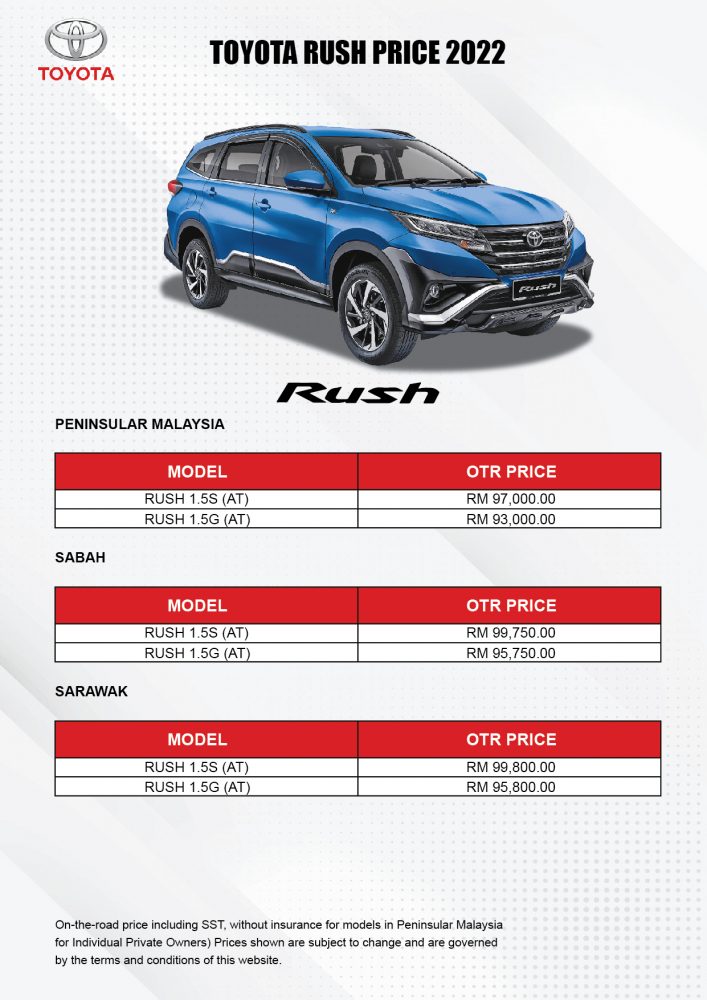 New Toyota Rush Price 2022, Sheer Confidence With Elegance! Toyota has launched 2 captivating brand-new Rush variants, Rush 1.5S (AT) and Rush 1.5G (AT). Let's go through on the road prices of these unshakable Rush variants in every region.
Peninsular Malaysia
The body price of Rush 1.5S (AT) begins from MYR 97,000.00, while Rush 1.5G (AT) costs MYR 93,000.00.
Sabah
In Sabah, Rush 1.5S (AT) and Rush 1.5G (AT) are available for MYR 99,750.00 and MYR 95,750.00 respectively.
Sarawak
In Sarawak, the market value of Rush 1.5S (AT) is MYR 99,800.00, however Rush 1.5G (AT) is rated at MYR 95,800.00.
CLOSURE
ABOVE every expectation, AHEAD with confidence, ALWAYS beyond compare! Toyota Rush model offers 2 happening variants at affordable cost. Contact nearest Toyota showroom and book your Rush!
"Traveling is a brutality. It forces you to trust strangers and to lose sight of all that familiar comforts of home and friends. You're constantly off balance. Nothing is yours, except the your essentials. Air, Sleep, Dream, the Sea, the Sky – all things tending towards the eternal or what we imagine of it".
What's your view on New Toyota Rush Price 2022? There is always more to read on Sales Advisor Website.