Perodua Myvi is known as "king of the highway" has launched its latest product Perodua Myvi facelift 2022. Perodua Myvi new facelift 2022 has advanced technological safety features and available at affordable price.
This new offering is to ensure valued Perodua customers get the best value. Perodua's President and Chief Executive Officer, Datuk Zainal Abidin Ahmad said "Myvi is a product that has attracted the attention of Malaysians and has been widely accepted by the people".
It comes with advanced specifications and Smart Driving Assist. The Rawang carmaker still maintains the "Malaysian icon" Myvi as its flagship model and "the Myvi cannot be left behind in terms of technological progress," the company said.
There are many new technologies and equipments, colors and finishes as well as major changes in the Perodua Automotive Industry. So, let's explore the advantages.
This train comes with ASA 3.0 safety features that are very advanced such as Pre-Collision Warning, Pre-Collision Braking, Pedal Misoperation Control, and Front Departure Alert.
EXTERIOR
INTERIOR
The picture above shows more contrast and elegant Myvi facelift interior with a Smart Digital display, Power Mode Drive, Multi-Info Clearer TFT LCD Display, Voice Recognition, Auto Lock and Unlock System, Integrated Driving Video Recorder (DVR), and Built-In Toll Reader.
The AV variant designed with a red finish on the center console and air-conditioning funnel. Leather seats also use red/black tones. There are also some other advantages as follow:
Keyless entry and push start button
Speed ​​sensitive auto door lock
Power window, auto up/down for driver only
2-DIN head unit with radio and USB inputs, four speakers (10 cm/10 cm)
Digital air conditioning control (with two memory settings)
Steering wheel with tilt adjuster
Height adjustable driver seat
New seat fabric with standard design
277L internal bonnet (expandable to 832L with rear seats below)
Side pockets on the front seat (for mobile phones)
Shopping hook and anti-snatch handbag hook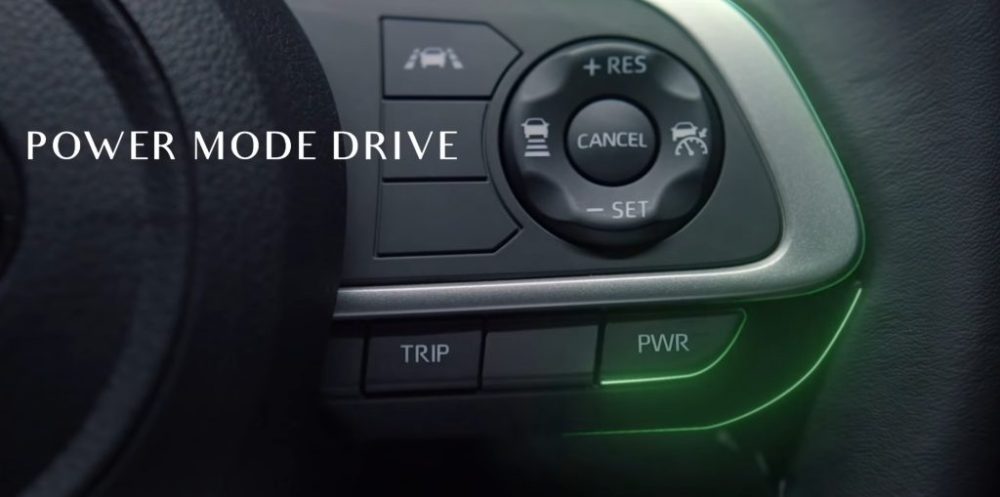 ENGINE
The Perodua Myvi new facelift 2022 has the biggest upgrade from a four-speed automatic gearbox to a D-CVT transmission for 1.3 and 1.5L engines. The D-CVT is the world's first split gear CVT system. This D-CVT works just like any other CVT with engine torque through torque conversions like the Toyota and Honda CVT.
Perodua also offers savings of five percent to 22.2km/l (1.3 engine) and 21.1km/l for the 1.5L engine. Acceleration also increased from 0 to 100 which is 20 percent faster with a record of 11.5 seconds for 1.3L engine and 10.2 seconds for the 1.5L engine. As most Malaysians know, Myvi is usually called as "king of the street" because of its great performance on road.
That performance is achievable due to the lighter gearbox size and the facelift Myvi offers smoother acceleration at low speeds. The installation of safety systems was also overhauled with initiatives to realize the goals of automotive technology.
The Dual VVT-i, DOHC NR engine is modern plus up-to-date, and it hasn't changed. The 1.3L 1NR-VE unit produces 94 hp at 6,000 rpm and 121 Nm of torque at 4,000 rpm. The 1.5L 2NR-VE produces 102 hp at 6,000 rpm and 136 Nm of torque at 4,200 rpm. Both have Eco Idle automatic stops.
SAFETY FEATURES
In context of safety features, Perodua Myvi has upgraded its safety level in order to be more safer and efficient for its users. Even an upgraded security system is much safer to own at reasonable price.
Meanwhile, Perodua introduced Advanced Safety Assist (ASA) Myvi in ​​2017, launched the enhanced ASA 2.0 for Aruz in 2019, and introduced ASA 3.0 with Ativa this year, a component under Perodua Smart Drive Assist (PSDA).
ASA 3.0 safety features are very advanced equipped with Pre-Collision Warning, Pre-Collision Braking, Pedal Misoperation Control, and Front Departure Alert. All of those features are available on the AV variant that qualifies it to be a car with Level 2 Autonomy technology.
The ASA suite which includes other safety features such as Pre-Collision Warning (PCW), Pre-Collision Braking (PCB or AEB), Forward Departure Alert (FDA), and Pedal Misoperation Control (PMC) is standard across the Myvi 2022 range except for basic 1.3 G, which can be owned with ASA, Auto High Beam and Lane Departure Warning/Prevention as options.
Pre-Collision Warning works with a brake system to detect vehicles, pedestrians, motorcycles, and bicycles at speed of 4-120km/h for cars and motorcycles, while 4-60km/h for pedestrians. The system can also be used around the clock.
How does this PCW work? In short, it will work if your vehicle approaches the front vehicle at an unsafe distance, this PCW will sound a warning two seconds earlier. If you still do not take any action on the brakes and steering wheel, then Pre-Collision Braking (PCB) will be activated.
Pre-Collision Braking has the same characteristic features like Autonomous Emergency Braking (AEB) with the vehicle braking and stopping it completely. It will go through two stages namely medium strong and strong. At medium-strong levels, your car will brake 1.3 seconds before the collision while 0.8 seconds at strong levels. It will make drivers and passengers feel fairly strong pressure before stopping their vehicles.
The Misoperation Control (PMC) pedal works to detect obstacles on the front lane within four meters by not allowing the driver to press the oil to increase speed. It is very useful to avoid serious situations especially for drivers who mistakenly step on the oil pedal.
Next, the Front Departure Alert known as the FDA acts to warn the driver if the front vehicle is moving and the driver is still not doing anything. For example, if you're on phone at traffic light and the front car is already moving, it will immediately inform the driver of the situation.
VARIANTS, COLORS, AND PRICE
For this Myvi facelift 2022, Perodua released six very attractive colors, namely Lava Red, Granite Gray, Solid Ivory White, Glittering Silver, Electric Blue, and Cranberry Red. In the color selection, Cranberry Red is the primary choice of buyers. This is because, Cranberry Red is a new color that attracts many, as well as its color, is brighter compared to Pearl Pomegranate Red Ativa and Passion Red Aruz.
Next for the price and variants, the Myvi 2022 facelift starts from 1.3 G without ASA/LDW/LDP/AHB at RM45,700. While 1.3G is available at a price of RM47,700 with the addition of ASA/LDW/LDP/AHB.
The next variant is 1.5X at a price of RM49,900. Aside from the larger engine, the 1.5L input variant includes ASA/LDW/LDP/AHB, Power mode, auto headlights, Bluetooth, and automatic folding side mirrors (when the car is locked).
Followed by the myvi 1.5H with an opening price of RM53,900 with high specs. It comes with the same specs as the AV because of the new LED DRL, door handles in a chrome design, side skirts, and a two-tone rear bumper, plus there's a spoiler at the rear.
This specification provides an enlarged touch screen unit (USB, bluetooth, smartlink, HDMI, voice recognition), toll card reader, leather steering wheel, and adjustable/removable rear headrest.
Finally, the AV is priced at RM59,610, which makes its interior more exclusive with red leather seats, red AC console, red-themed meter panel with TFT MID, reversing camera, front camera, and ACC/LKC/BSM/RCTA. This makes the Myvi facelift 2022, a car that features more stringent safety features at a price below RM60,000 with five-year/150,000 km warranty.
CLOSURE
In conclusion, what is your view on the feature, isn't it interesting and useful enough? Furthermore, at the price it is offered, this is certainly something that can benefit consumers and hopefully can educate drivers to be more responsible while on the road.
Visit Sales Advisor Website to sense distinctive features of latest Segment B SUV Proton X50.