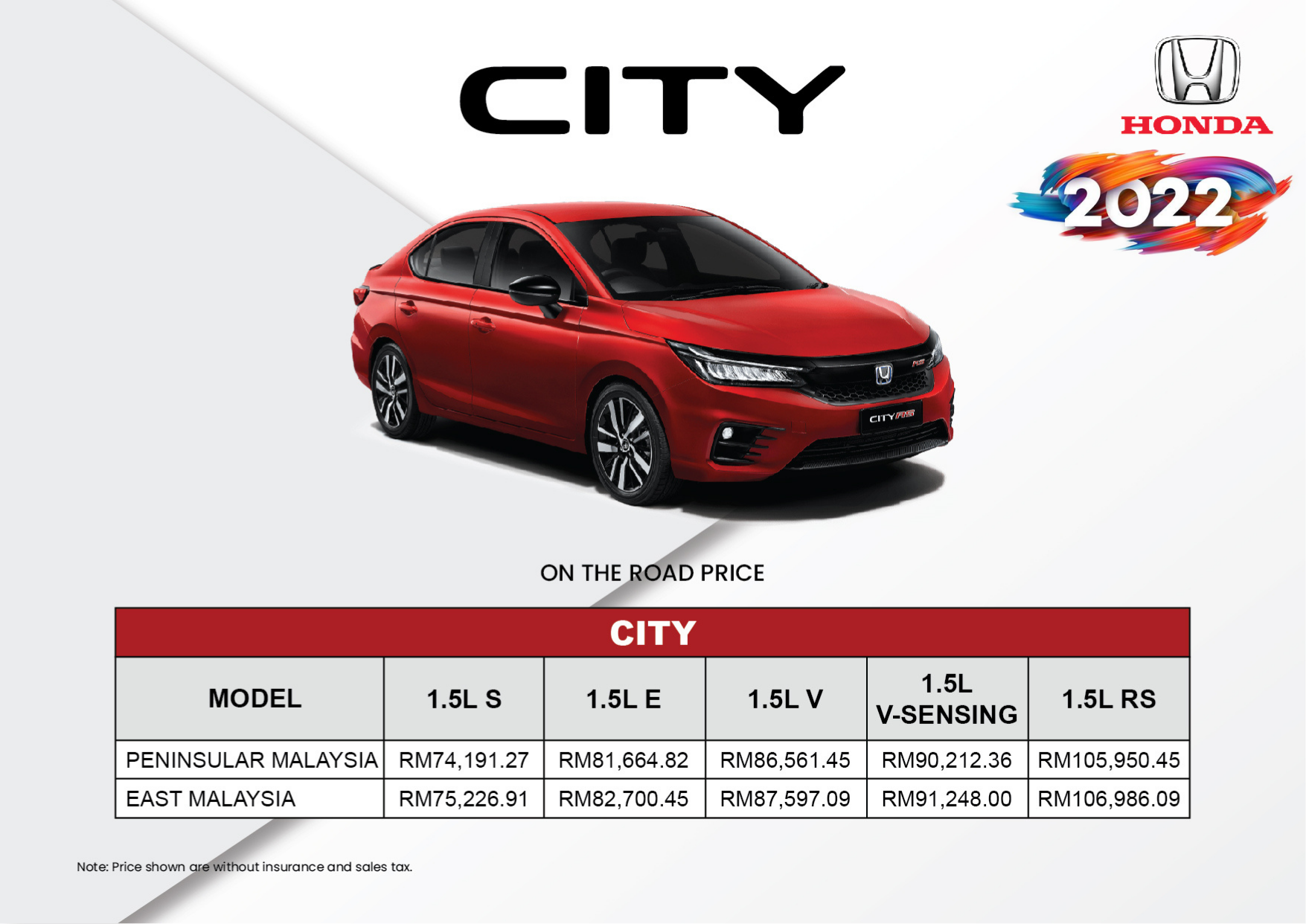 "Raise The Game", New Honda City Price 2022 is intelligibly exposed in this article. In a world where standards set the rule for all, Honda models thrive to survive the norm. Since 1981, from the 1st generation to 7th generation, Honda City has faced great evolution. According to the present time, there are 5 up-to-the-minute Honda City variants are in demand of Honda's market. City 1.5L S, City 1.5L E, City 1.5L V, City 1.5L V-SENSING, and City 1.5L RS are the newest Honda City variants. New Honda City Price 2022 displays below on the road prices of these variants.
Peninsular Malaysia
Retail price without insurance of City 1.5L S and City 1.5L E in Peninsular Malaysia is MYR 74,191.27 and MYR 81,664.82 respectively. Besides that, City 1.5L V is valued for MYR 86,561.45, while City 1.5L V-SENSING rated at MYR 90,212.36. City 1.5L RS's worth begins from MYR 105,950.45.
Sabah & Sarawak
In East Malaysia, City 1.5L S costs approximately MYR 75,226.91. In addition, City 1.5L E is evaluated for MYR 82,700.45. The estimated prices of City 1.5L V and City 1.5L V-SENSING are MYR 87,597.09 and MYR 91,248.00.  East Malaysians may own City 1.5L RS for MYR 106,986.09.
CLOSURE
To sum up, the Honda City is undoubtedly one of the most ideal cars to run on city roads. Honda offers these 5 incredible variants for you at reasonable cost. It's time to begin your journey with Honda City.
We hope that New Honda City Price article has given some beneficial ideas. If you want to know the latest prices of Honda models, go to Sales Advisor Website. Astounding write-ups are arranged for you!