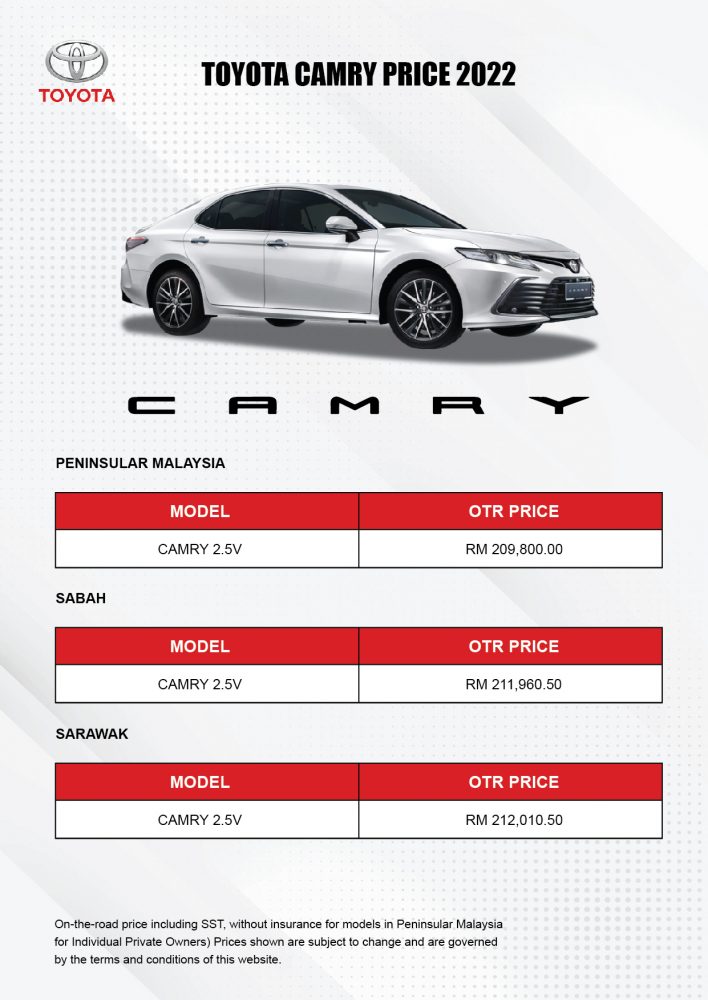 New Toyota Camry Price 2022, Exquisite Dominance! Toyota has launched brand-new luxurious Camry 2.5V. Toyota Camry has won many awards. According to US News & World Report, The 2021 Toyota Camry Was Named Best Midsize Car for the Money. Moreover, 2021 Camry Was Named Best Resale Value in Its Class by Kelley Blue Book's KBB.com. Immerse yourself in this exploration of Camry's on the road price in every region.
Peninsular Malaysia
Camry 2.5V's retailing cost begins from MYR 209,800.00.
Sabah
In Sabah, Camry 2.5V is available for MYR 211,960.50.
Sarawak
Are you a Sarawakian? You may own Camry 2.5V for MYR 212,010.50.
CLOSURE
Toyota Camry model offers 1 and only Camry 2.5V at affordable cost which tastes your superiority. Contact nearest Toyota showroom and book your Camry!
Travel isn't always pretty. It isn't always comfortable. Sometimes it hurts, it even breaks your heart. But that's OK. The journey changes you; it should change you. It leaves marks on your memory, on your consciousness, on your heart, and on your body. You take something with you. Hopefully, you leave something good behind. – Anthony Bourdain
What's your view on New Toyota Camry Price 2022? There is always more to read on Sales Advisor Website.